Research Services
At the Comparative Pathology Laboratory, we have a wide range of staff with the expertise to assist you with your research project. We offer the following services:
Necropsy of study animals, gross dissection of target tissues, and photo documentation.
Histopathological tissue processing and interpretation by board-certified veterinary pathologists with semi-quantitative data collection and photomicroscopy, as needed.
Collection of peripheral specimens during necropsy for serology, clinical pathology, parasitology, microbiology, and/or PCR and subsequent processing of collected specimens.
Consultation on experimental design and sample collection.
Figure and text generation for publication.
Please contact us at cpl-projects@ucdavis.edu to inquire about how we can help you with your project.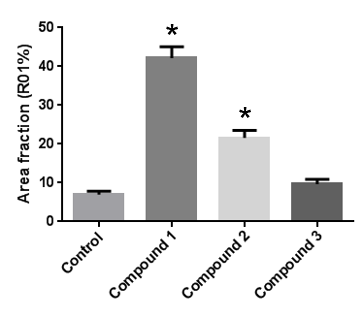 Recent publications:
Olstad JK, Imai DM, Keesler RK, Reader R, Morrison JH, Roberts JA, Capitanio JP, Didier ES, Kuroda MJ, Ikeno Y, Ladiges W. Benefits of adapting the rodent Geropathology Grading Platform for use in non-human primates. Geroscience. Submitted.
 
Hilton HG, Rubinstein ND, Janki P, Ireland AT, Bernstein N, Fong NL, Wright KM, Smith M, Finkle D, Martin-McNulty B, Roy M, Imai DM, Jojic V, Buffenstein R. Single-cell transcriptomics of the naked mole-rat reveals unexpected features of mammalian immunity. 2019. PLOS Biology. https://doi.org/10.1371/journal.pbio.3000528
 
Foley, J, Allan N, Pesapane R, Johnson A, Woods L, Brignolo L, Luce A, Clifford DL, Imai DM. Disease and pathological conditions of an endangered rodent, Microtus californicus scirpensis, in a captive-rearing facility andin the wild. J Zoo Wildl Med. 2019. In revision.
 
Snyder JM, Snider T, Ciol MA, Wilkinson JE, Imai DM, Casey KM, Vilches-Moure JG, Pettan-Brewer C, Pillai SPS, Carrasco SE, Salimi S, Ladiges W. Validation of a geropathology system for aging mouse studies.Geroscience. 2019. doi: 10.1007/s11357-019-00088-w.
 
Brownlee R, Imai DM, Coleman D, Abdelrazek S, Soto E. Experimental infection of mice with Veronaea botryosamodels human phaeohyphomycosis. Comp Med. 2019. doi: 10.30802/AALAS-CM-18-000151
 
Hodzic E, ImaiDM, Escobar E. Generality of Post-Antimicrobial treatment persistence of Borrelia burgdorferistrains N40 and B31 in genetically susceptible and resistant mouse strains. Infect Immun.2019. doi: 10.1128/IAI.00442-19
 
Oz-Levi D, Olender T, Bar-Joseph I, ZhuY, Marek-Yagel D, Alkelai A, Ruzzo EK, Han Y, Vos E, Tatarskyy P, Reznik-Wolf H, Milgrom R, Weiss B, Pode-Shakked B, Schvimer M, Barshack I, Hartman C, Shapiro R, Shamir R, Imai DM, Barozzi I, Osterwalder M, Coleman-Derr D, Dickel DE, Nord AS, Afzal V, Lammerts van Bueren K, Barnes RM, Visel A, Black BL, Mayhew CN, Kuhar MF, Pitstick A, Tekman M, Stanescu HC, Wells JM, Kleta R, de Laat W, Goldstein DB, Pras E, Pennacchio LA, Lancet D, Anikster Y. Noncoding deletions expose a novel gene critical for intestinal function. Nature. Accepted.
 
Moore BA, Leonard BC, Sebbag L, Edwards SG, Cooper A, Imai DM, Straiton E, Santos L, Reilly C, Griffey SM, Bower L, Clary D, Mason J, Roux MJ, Meziane H, Herault Y, International Mouse Phenotyping Consortium, McKerlie C, Flenniken AM, Nutter L, Berberovic Z, Owen C, Newbigging S, Adissu H, Eskandarian M, Hsu CW, Kalaga S, Udensi U, Asomugha C, Bohat R, Gallegos JJ, Seavitt JR, Heaney JD, Beaudet AL, Dickinson ME, Justice MJ, Philip V, Kumar V, Svenson KL, Braun RE, Wells S, Cater H, Stewart M, Clementson-Mobbs S, Joynson R, Gao X, Suzuki T, Wakana S, Smedley D, Seong JK, Tocchini-Valentini G, Moore M, Fletcher C, Karp N, Ramirez-Solis R, White JK, de Angelis MH, Wurst W, Thomasy SM, Flicek P, Parkinson H, Brown S, Meehan TF, Nishina PM, Murray SA, Krebs MP, Mallon AM, Lloyd K, Murphy CJ, Moshiri A. Identification of genes required for eye development by high-throughput screening of mouse knockouts.Commun Biol.2018; 1:236. doi:10.1038/s42003-018-0226-0
 
Casey KM,Johnson AL, Hunrath MN, Fraser JK, McCowan NC, Wasson K, Doty RA, Griffey SM, Imai DM. Proliferative typhlocolitis with multinucleated giant cells: A non-pathogen-specific enteropathy in immunodeficient sentinel mice. Vet Pathol. 2018; 56: 157-68.
 
Harris TR, KodaniS, Rand A, Yang J, Imai DM, Hwang SH, Hammock BD. Celecoxib exacerbates liver fibrosis in a carbon tetrachloride-induced model. Mol Pharmacol. 2018; 94: 834-841
 
Moore BA, Roux MJ, Sebbag L, Cooper A, Edwards SG, Leonard BC, Imai DM, Griffey S, Bower L, Clary D, Lloyd KC, Herault Y, Thomasy SM, Murphy CJ, Moshiri A. A population study of common ocular abnormalities in C57BL/6N Rd8mice. Invest Ophthalmol Vis Sci. 2018; 59: 2252-2261.
 
Imai DM, Pesapane R, Conroy C, Alarcon CN, Allan, N, Okino RA, Fung J, Murphy BG, Verstraete FJM, Foley J. Apical elongation of molar teeth in captive Microtus voles. Vet Pathol.2018; Jan 1:300985818758469. doi: 10.1177/0300985818758469